Author Stephanie Draven joins us to tell us about her recent release, It Stings So Sweet from Berkley Sensation, and her writing.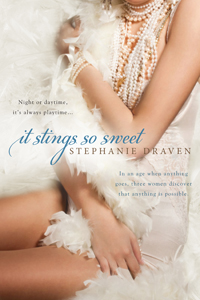 In the aftermath of a wild, liquor-soaked party, three women from very different social classes are about to live out their forbidden desires.
Society girl, Nora Richardson's passionate nature has always been a challenge to her ever-patient husband. Now he wants out of the marriage and she has just this one night to win him back. The catch? He wants to punish her for her bad behavior. Nora is offended by her husband's increasingly depraved demands, but as the night unfolds, she discovers her own true nature and that the line between pain and pleasure is very thin indeed.
Meanwhile, Clara Cartwright, sultry siren of the silent screen, is introduced to a mysterious WWI Flying Ace. If Clara, darling of the scandal sheets, knows anything, it's men. And she's known plenty. But none of them push her boundaries like the aviator, who lures her into a ménage with a stranger in a darkened cinema then steals her jaded heart.
Working class girl Sophie O'Brien has more important things on her mind than pleasures of the flesh. But when her playboy boss, the wealthy heir to the Aster family fortune, confronts her with her diary of secret sex fantasies, she could die of shame. To her surprise, he doesn't fire her; instead, he dares her to re-enact her boldest fantasies and Sophie is utterly seduced.
One party serves as a catalyst of sexual awakening. And in an age when anything goes, three women discover that anything is possible...
Stephanie: Thanks so much for having me!
Afton: Tell us about your latest release. I just read it and loved the edginess. I was literally on the edge of my seat wondering what the characters would try next.
Stephanie: IT STINGS SO SWEET is a 1920s historical erotic romance novel told in three parts. The first is a story about a married couple on the brink of divorce who are brought back together when they discover their inner kinks. The second is about a jaded starlet who finally meets a man who can make even a girl like her blush. The third is about a shop girl and social activist who finds herself in a torrid affair with her boss--the man she's planning a strike against.
All three stories are set in a time when there weren't words for the BDSM lifestyle, but people still had the same urges. It's about people who are convinced that their sexuality will leave them isolated and alone--people who learn that accepting themselves is actually the path to love.
Afton: The acceptability (or lack therof) of BDSM in history is a fascinating angle. What inspired you to write the story?
Stephanie: The smart answer is that I was inspired to write about this after listening to countless arguments about what was and wasn't real BDSM. It's always hard for me to watch, in silence, as people try to judge and rip apart the sexuality of others, much less force them to question an identity that wasn't easy for them to arrive at in the first place. I wanted to say that when it comes to your bedroom, you get to have your own rules.
The more mundane answer is that I had a dream about Jonathan Rhys Meyers all dressed up in 1920s garb and he was very angry. I woke up out of a sound sleep, fascinated by the story behind his anger, and that was the spark behind the book. Then I stumbled over a piece of vintage pornography that had been digitized from the era, and no one could stop me from writing about it!
Afton: Dream inspiration is very cool. I'm going to Google now to see what he looks like. Why did you choose the 1920s as a time period?
Stephanie: My mission is to write very smart books for very bad girls and flappers were the original bad girls of American history. They smoked, they drank, they wore short skirts and had sex and demanded to be allowed to use birth control. It's a very sexy time period and it's also a time of social revolution. But I'll also admit that the clothes are gorgeous and the style is elegant and glitzy.
Afton: It sounds like a fun time period and one that will become more popular. Which character in that book do you identify with the most?
Stephanie: I loved every character in this book but if I have to pick only one, it's Leo Vanderberg, World War One Flying Ace. An American aviator who masters everything he puts his hands on whether it's an airplane or a silent screen siren.
There is a moment in the story that Clara gets embarrassed and doesn't want to tell Leo how many lovers she's had. He laughs and says, "I hope your list numbers in the hundreds . . . this way, when you admit I'm the best you've ever had, it'll really mean something."
The moment those words rolled off his lips, I fell in love with him. And so did she.
Afton: I could tell from reading it that you really liked Clara and Leo's story. I loved all the unique characters, so it would be hard for me to choose just one. What did you learn about yourself or in general from writing this book?
Stephanie: I didn't know that films in the 1920s were so racy--it was before the Hays Code, so anything was allowed. And they did everything. I actually tripped over digitized pornography from this era and was so charmed by one of the films that I started writing a story for one of the women in it. That's how Clara Cartwright was born.
Afton: 1920s porn. Wow, who knew? Tell us about your books / writing identities. Is it hard to keep it all straight?
Stephanie: As Stephanie Dray I write historical women's fiction and fantasy. As Stephanie Draven, I write all kinds of romance, or whatever else I feel like writing.
Under both names, I try to write about the things that move me and inspire readers. But there is a different emphasis with each. It's the marketing that tends to be nightmarish.
Afton: Writers have various strategies for dealing with reader opinions. What is yours?
Stephanie: I value all reader input. It's just that sometimes I value it because it makes me giggle. One of my all-time favorite letters was from a prisoner who explained that my book was the only one he was allowed to read in solitary confinement. Then he proceeded to lay out a sixteen point explanation of why it was the worst book he'd ever read. That one goes in my hall of fame.
Afton: LOL.Well, at least it made an impression on him. Which of your books would you most like to see in film and who would you cast as the hero and/or heroine?
Stephanie: I'd love to see IT STINGS SO SWEET made into a movie, and if it is made into one, I'd love to see Jon Hamm play Leo Vanderberg!
Afton: Ah, another handsome guy I just looked up on Google. What's your vision of a romantic date?
Stephanie: I'd love to go to a sea-side resort with a private pool. Is that too much to ask?
Afton: Not at all. It might even make a good setting for another book.
Thanks for joining us, Stephanie! Where can we find you for future updates?