Drunk on Men
You may think it's sloe fizz gin
But honey we're sober, just drunk on men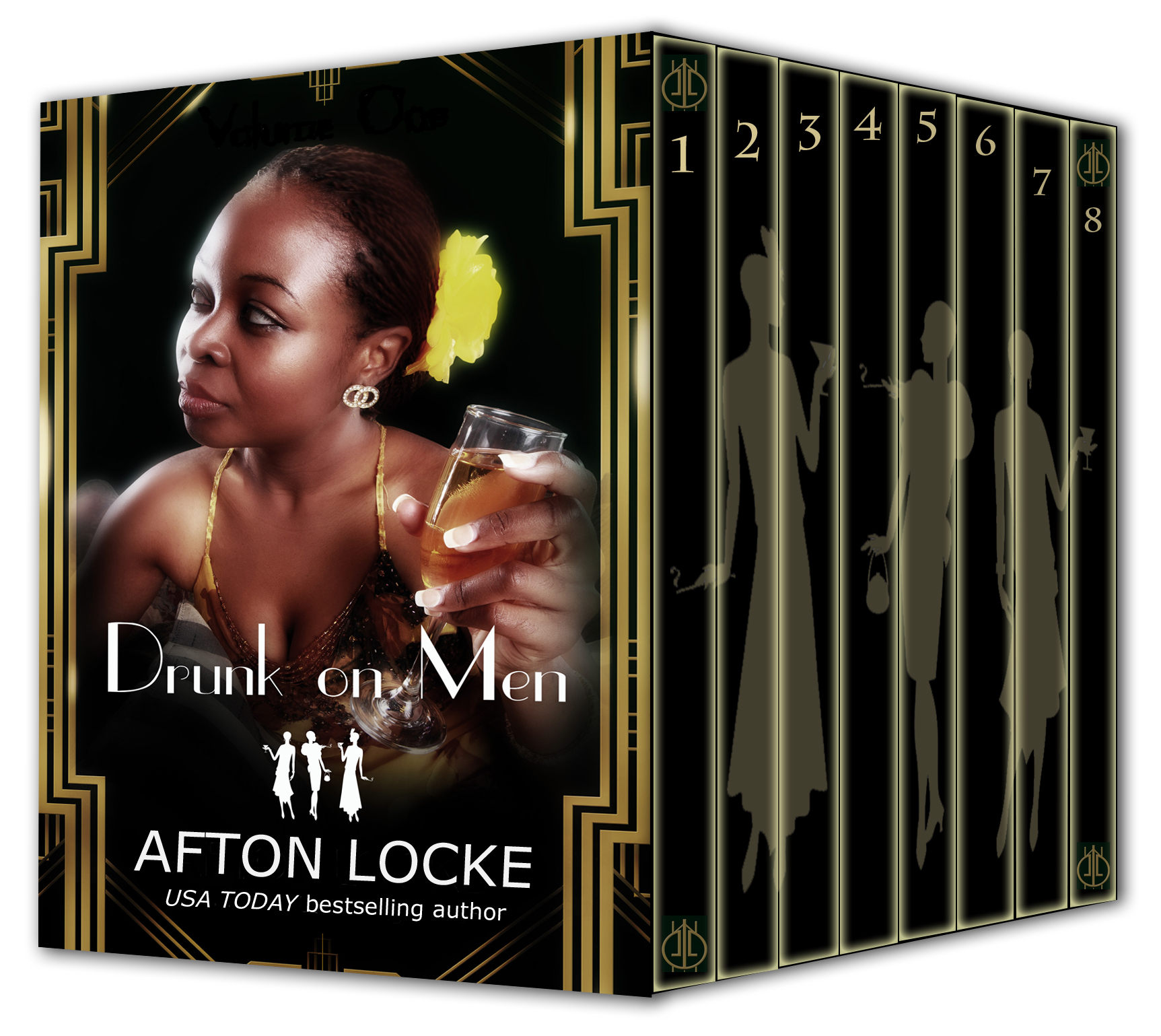 After three women meet at a resort on the Jersey Shore, they say goodbye to their old lives. Finding men as intoxicating as bootleg liquor, they pin their futures on happily ever after. But love can be worse than a hangover when the men's flaws threaten to destroy them.

When Clive, the mysterious writer, propositions Hannah to be his muse, will she settle for so much less than the respectable marriage her family expects for her? Raoul, the town bootlegger, gets Belle's attention with his money and power, but does he have what it takes to earn her trust? As Drake, a rugged fisherman, stakes his claim on Edie, is the debutante strong enough to withstand possession that knows no bounds? And when the ladies get their hands on their very own hotel, will running it make them stronger, or will dreams, relationships, and life itself wash away in tomorrow's tide?
BOXED SET (all 8 volumes): BUY NOW

Print:
Part 1 (Vol. 1 - 4)
Part 2 (Vol. 5 - 8)

Scroll down for excerpts by volume:

Volume 1 ~ Volume 2 ~ Volume 3 ~ Volume 4 ~ Volume 5 ~ Volume 6 ~ Volume 7 ~ Volume 8
---
~ Volume 1 ~
Hannah knows it's time to replace her fiancé who died in the war, but the abrupt white man who rescues her from rough surf hardly fits the bill. Belle longs to ditch her latest meal ticket, but is the rich African-European owner of an upscale hotel out of her league? And while Edie struggles to face her upcoming arranged marriage, a rugged Hispanic-white fisherman decides to stake his own claim on her.

FREE! read: Amazon
---
~ Volume 2 ~
| | | |
| --- | --- | --- |
| | | When Clive, Hannah's mysterious stranger, propositions her to be his muse, will she accept? Belle stows away on a bootlegging adventure, only to discover Raoul may be more than even she can handle. While Edie struggles to adjust to a lower standard of living, can Drake seduce her past the point of no return? |
---
~ Volume 3 ~
| | | |
| --- | --- | --- |
| | | Struggling to keep up with her new friends romantically and financially, Hannah dreams of being Clive's wife or owning a hotel. But if she pushes too hard, she may lose both. Belle tries every trick she knows to wrangle better housing from Raoul, but her emotions keep getting in the way. When Edie discovers Drake's dark side, how long can she hide it from the girls, and herself? |
---
~ Volume 4 ~
| | | |
| --- | --- | --- |
| | | The Three Dolls opens to a liquor shortage, but can Belle do business with the man who broke her heart? As soon as Hannah revels in her independence, Clive reappears, begging her to be his muse just one more time. Drake's disapproval of Edie's work at the hotel pushes their relationship to the breaking point. And when Belle comes to her rescue, nothing will ever be the same. |
---
~ Volume 5 ~
| | | |
| --- | --- | --- |
| | | Bereft without Drake, Edie's battle with her addiction tests her friendships and her very sanity. As Hannah struggles to accept a relationship without marriage, will Clive's unexpected breakthrough bring her victory or defeat? Done with Raoul's ways, Belle finds her pleasures elsewhere, but getting revenge only shows her she's still far from over him. And after coming face to face with the law, the women realize they have much bigger problems than men. |
---
~ Volume 6 ~
| | | |
| --- | --- | --- |
| | | After Hannah breaks her strong moral code with Clive, she wants to forget it and move on, but fate is about to give her a permanent reminder. When Belle decides to protect Hannah, will Clive suffer the same fate as Drake? Meanwhile, a local women's organization aims to stamp out immorality at The Three Dolls and, if necessary, the hotel itself. But Belle's awful secret might beat them to it. |
---
~ Volume 7 ~
| | | |
| --- | --- | --- |
| | | Horrified by what Belle did to her, Edie stumbles into a familiar pair of forbidden arms as she flees to the bottle. During the hotel's end-of-season Sun Day celebration, what Hannah has always wanted is finally in reach, but how long can she keep it? Divided from within and targeted by an outside enemy, The Three Dolls stands on shaky ground. And as Belle struggles to redefine herself while recovering from an unthinkable tragedy, the last person she ever wants to see returns. |
---
~ Volume 8 ~
| | | |
| --- | --- | --- |
| | | While the women marry independence at a beachside ceremony, Clive, Raoul, and Drake look on, vowing to become the men they deserve, but can flawed men really change? Clive wrestles with a ghost from his past, Raoul makes an unbelievable sacrifice, and Drake stumbles across his missing heritage. But when a racial incident divides the town of Ocean Promenade, will the men remain worthy of love after the smoke clears? |
---

Reviews
Australian Romance Readers
This book is part of a series and it will be interesting to see where the stories of the three women go.
Long and Short Reviews (4 stars)
The characters are likable and have a sisterly bond that gave me a feel good comfort...The innocence of first encounters with the men makes for an interesting read, leaving you wondering if they've met the right man...I enjoyed the delightful story of Belle, Hannah and Edie and watching their friendship blossom. I look forward to the second volume of the series to see where the journey will lead the ladies.

Setting
Oyster Promenade is a fictional town on the south Jersey shore in the 1920s. With a variety of old-time hotels and speakeasies, passion and intrigue can't be far behind.
hotels (wet - serves alcohol, dry - does not)
Wilmott - a luxury hotel (dry)
Gilded Sands - an Art Deco hotel (wet)
Three Dolls - the hotel run by the three heroines (wet)
Sea Bluff - a family-oriented hotel (dry)
bars/other
Tut's Common - bar in the Gilded Sands
the Pier - dance hall
Butlerville - nearby town
Doll Hall - bar in The Three Dolls
organizations
ESIL - Edie's School for Independent Ladies
LOBSLOP - Ladies Organized Business and Society League of Ocean Promenade

Characters
More characters will be introduced as the serial progresses.
heroines
Hannah Williams - from a farm near the Delaware Bay
Belle Longstreet - from the streets of Camden, New Jersey
Edie Childers - from an influential family in Philadelphia, Pennsylvania
their men
Clive Scribner - author and WWI vet
Raoul Fabrizio - town bootlegger and owner of the Gilded Sands
Drake Morgan - pound fisherman and rumrunner
Billy Sutton - young local farmer
Morris Worley - Hannah's deceased fiancé
Hugh Martin - Belle's companion
Lawrence Gould - the fiancé Edie's parents chose for her
family
Rosie - Hannah's aunt
Agnes & Edward Childers - Edie's parents
Peter Scribner - Clive's deceased brother
other business owners
Hilda Heatherton - owner of the Heatherton House boarding house
Minna Wright - owner of the Sea Bluff
hotel/bar staff
Siddhartha - bartender at the Gilded Sands
Hazel Abel - senior maid at the Sea Bluff
Gertie Whalen - cook at the Three Dolls
Ollie Trotter - bartender at the Three Dolls
Mick - bartender at the Three Dolls
Nora - desk attendant at the Three Dolls
Mary - maid at the Three Dolls
Frankie - porter at the Three Dolls
Other
Annie - Edie's student
Felicia Reynolds - sister of Coast Guard official
Charlie - local orphan boy
Mr. & Mrs. Alverado - Drake's neighbors
Calvin - Charlie's friend